My Pelvic Floor PT Origin Story 🤯
Jun 01, 2023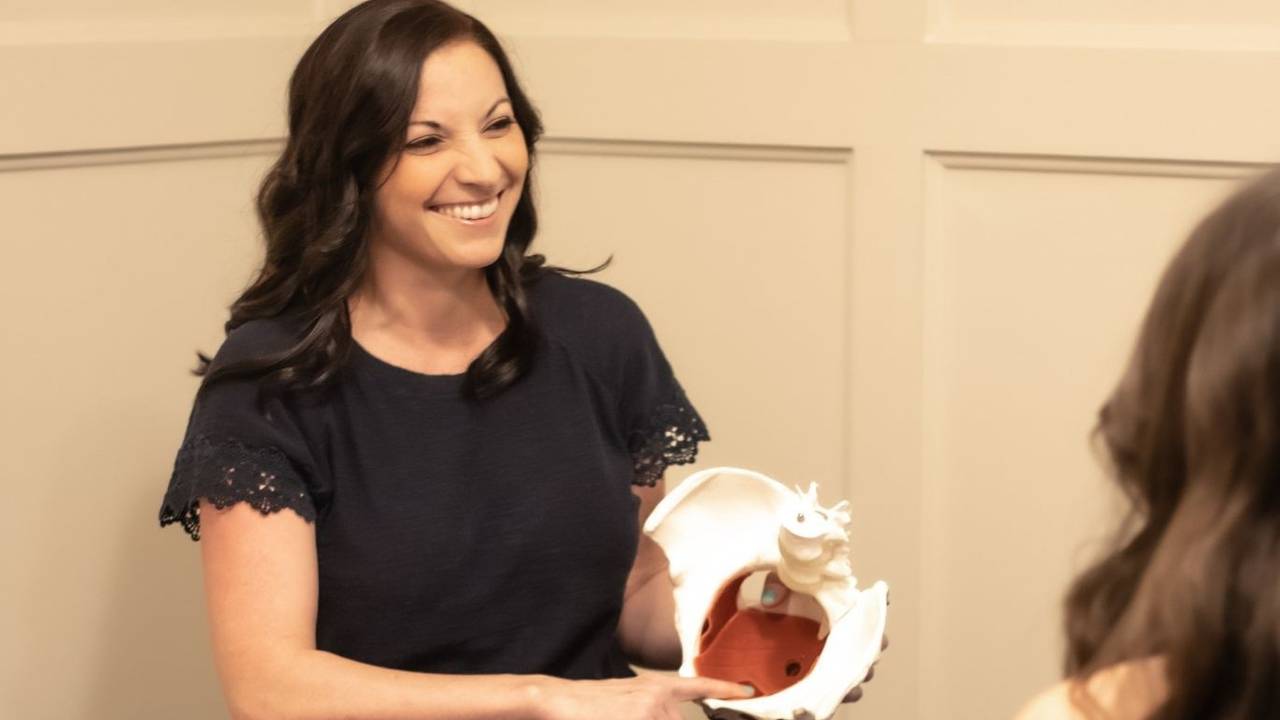 The most common question people ask me is how I got into the field of pelvic floor physical therapy.
Here's my story . . .
I graduated from the University of Central Florida in 2006 with my Masters of Science degree in Physical Therapy and then in 2009 from Regis University with my Doctorate of Physical Therapy degree.
In the years of learning it took to finally become a physical therapist (4.5 years plus 4 for my bachelors), we had about 1-2 hours of learning about the pelvic floor muscles and pelvic floor physical therapy.
I never ever considered becoming a pelvic floor physical therapist during that time.
Going to the national physical therapy conferences over the years, the pelvic floor PT's would always try to share their info and get others to become as interested as they were in the field of pelvic PT and I would just hide my face with my hand and quickly walk the other way.
I didn't understand it and I didn't want to take the time to try to understand.
Fast forward to 2014.
I was recovering from 2 pregnancies and vaginal deliveries 17 months apart (May 2011 and October 2012) and was trying to get back into running.
On my lunch break at work (working in a gym) I'd hop on the treadmill, and start my jog/run.
About 4 minutes in, I started feeling a shooting pain from the bottom of my pelvis (vulva area) to my ankle. Not fun.
It prevented me from running.
I never experienced anything else pelvis related during that time (no pain with sex, no urinary leaking, no prolapse, no diastasis recti, no nothing) other than that pain while running and it was very annoying.
One of my co-workers (a pelvic floor physical therapist) helped me recover and she suggested I look into taking a pelvic floor PT class and start treating people for pelvic floor dysfunction.
Hmm...
maybe there's more to this than I thought.
One of the questions on our general PT intake forms was about incontinence and I remember so many people checking the box.
I would think to myself, well, I guess that's just to be expected when we age!
What else can be done?
There's no fountain of youth, just learn to deal with it.
I couldn't have been more wrong.
I took my first pelvic floor PT class through Herman & Wallace Pelvic Rehab Institute, and then another, and another and another . . .
my mind was blown and my world was changed.
The women teaching these classes were so knowledgeable, so caring and so easy to talk to.
Pelvic Floor PT involves a lot of extra education and training. These extra classes plus my orthopedic background blend together so well into what I do now.
I decided to take an extra step and study to become Board Certified as a Women's Health Clinical Specialist.
The field of Physical Therapy in the United States has different Board Certifications for different fields: Orthopedics, Pediatrics, Geriatrics, and "Women's Health," which should soon be switched to "Pelvic Health" (but we aren't there yet).
In 2018, I passed that test and am now a Board Certified Women's Health Clinical Specialist through the American Board of Physical Therapy Specialties (ABPTS).
Advice: (Make sure the PT you're working with has put in the extra time and the extra effort into becoming a pelvic floor physical therapist)
Some clinics claim they have a "pelvic floor physical therapist" when that person has actually never taken ANY extra training.
I also studied to become a Pregnancy and Postpartum Corrective Exercise Specialist and I'm currently working toward becoming a Certified Menopause Practitioner through the North American Menopause Society.
I have since become the pelvic floor PT at national conferences trying to convince others to get into this field! 😂
There's so much to learn about our bodies, so much we can do to prevent dysfunction and rehabilitation is definitely possible.
There is nothing to "just deal with."
There's pelvic floor physical therapy for that!
Ready to schedule an appointment? Click below to get started today.
Get Started
Get my Guide to Better Bladder and Bowel Health plus information about peri and postmenopause by signing up below!
Don't worry, your information will not be shared and you can unsubscribe at any time! (But why would you want to? :)